Frederick E. "Ted" Hood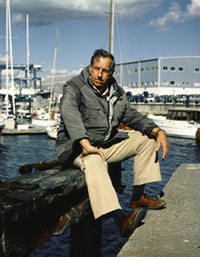 Born in Beverly, MA in 1927 to Ralph Stedman Hood and Helen Emmart Hood, Ted grew up in the nearby towns of Danvers and Marblehead. He attended Marblehead High School and Wentworth Institute. He served in the Navy during World War II.
In 1955, he founded Hood Sailmakers in the back of Maddie's Bar in Marblehead, but later moved the operation to the nearby Little Harbor section of that town. With his father's help, Ted was the first sail maker to weave his own sailcloth, revolutionizing the process to enhance the strength and durability of his sails. By the 1970s, Hood Sailmakers had grown into a worldwide network of service and production lofts, with his sails ubiquitous on winning yachts including all the Americas Cup winners from 1958 to 1977.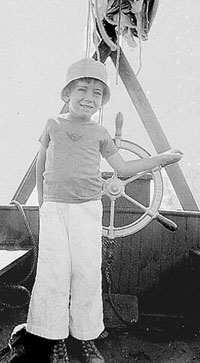 The talented sail maker also founded Hood Yachts Systems, which built spars and custom tear-dropped shaped rigging and invented ground-breaking marine hardware including the Gemini grooved headstay for racing, and the Seafurl and the Stoway Mast roller reefing systems for cruising. These contributions made sailing safer and easier for thousands of sailors around the world.
Combining a natural sailing ability with his aptitude for design, Ted built and skippered a successful series of keel and centerboard racing yachts under the name Robin. In 1959 his career took off when he won the New York Yacht Club Annual Cruise in his first Robin. He did so, not only as skipper, but as designer, builder and sail maker. In 1962 and 1964 he repeated the feat with Nefertiti in the America's Cup trials.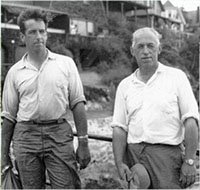 Ted's many victories on the water were highlighted by the Mallory Cup (1956), the Marblehead-Halifax Race (1961,1971), Newport-Bermuda Race (1968) and the SORC (1974). Also in 1974, as skipper of the Sparkman & Stephens designed Courageous he won the America's Cup sailing away from Australia's Southern Cross, 4-0.
Three years later he campaigned Independence, the second 12-Meter he designed, against Courageous, which he had redesigned, but was ultimately runner up in the defender trials.
By the early 1980's Ted had turned his attention away from sail making and to boat building and design. He created a line of sailboats under the "Little Harbor" name, and constructed many yachts under that name from 38' to 78', personally involved with design and construction details. In addition, various builders worldwide built over 1,500 yachts of his design, including the 133' Anakena.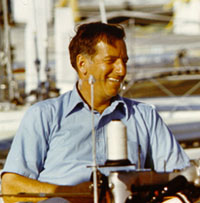 In 1986 Ted moved his businesses to Portsmouth, RI, transforming an old World War II navy fuel depot into one of the largest yacht service, design, brokerage and building operations on the East Coast. His subsequent purchase of the Black Watch line of yachts launched the enterprising Ted into the world of powerboats, pioneering today's "express yacht" look with his Little Harbor powerboat series.
After selling his business in 1999, Ted continued to work on new yacht designs, including both power and sail catamarans and expedition yachts. In 2006 Ted wrote his autobiography "Ted Hood, Through Hand and Eye", with Michael Levitt.
Ted was a member of the Corinthian, Eastern and Boston Yacht Clubs in Marblehead, the New York Yacht Club, the Cruising Club of America, Storm Trysail Club and Blue Water Sailing Club. He was named Yachtsman of the Year in 1974, was elected to the America's Cup Hall of Fame and the National Sailing Hall of Fame.
According to his children, he was marking up drawings right into his last days. All who knew him were inspired by his innovative mind, entrepreneurial spirit and creative passion.
Bob Hood
Nancy Hood-MacLeod